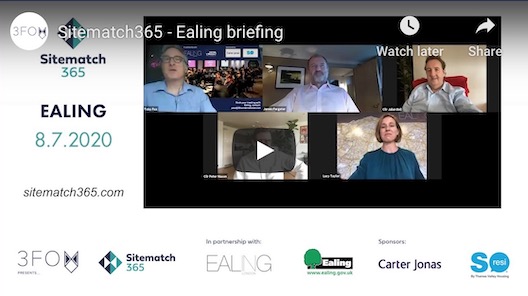 If you follow planning in the London Borough of Ealing, you are probably aware of Ealing Council's developer-funded annual jaunt to MIPIM (or le Marché International des Professionnels de l'iMmobilier, the international property event held in Cannes) where the Council promotes development in the borough to international property speculators. Sadly for the Council, the event was cancelled this year due to the Covid-19 health emergency.
You may not be aware of the Sitematch365 programme hosted by 3Fox International, a marketing and events company that promotes development opportunities in Ealing and other London boroughs. Sitematch365 is a partnership between Toby Fox, the Managing Director, and Ealing Council that introduces public sector landowners to developers in a kind of speed-dating exercise. It normally takes the form of face-to-face meetings once a year in Central London, but due to Covid-19, these were substituted this year by two online sessions featuring Councillor Julian Bell, Leader of Ealing Council, Councillor Peter Mason, Cabinet Member for Housing, Planning and Transformation and Lucy Taylor, Director of Regeneration and Planning. The sessions took place on 8 and 31 July.
Ealing Matters attended the first of the two Zoom meetings. It is well worth a look, if only to find out how our Council was promoting the borough to the developers taking part (around 130 of them give or take those residents attending to find out what the Council is doing in their name). In his introduction, such was Councillor Bell's enthusiasm that he proclaimed Ealing 'the best connected place in the universe' and ruminated that the new Gurnell Leisure Centre might help win the bid to host the 2032 Olympic Games (funny, I thought it still had to go before the Planning Committee, but hey!)….
Five specific sites were touted, three of them already listed in the Development Sites document of the 2012 Local Plan. These were:
Acton Gateway (the Morrisons supermarket site or ACT2)
Eastern Gateway (the approach from Ealing Common to Ealing Broadway or EAL1)
Sandringham Mews (23-45 Hight Street, W5 or EAL5)
Greenford Broadway Car Park (at the rear of the high street)
Twyford Abbey (Grade II listed) site (in NW10 off the North Circular).
A further 32 sites were mentioned to tempt the audience and encourage them to take part in private follow-on meetings with Ealing Council's planners. However, virtually all of the latter have either been built or are well advanced in the planning pipeline.
One of the points made by Councillor Mason at the Ealing Matters Local Plan public meeting that took place on 23 July, was that higher land values mean bigger, chunkier and more heavy development to pay for them. Is it any wonder that land prices in Ealing are as high as they are when our own Council is stoking competition among developers in this way?