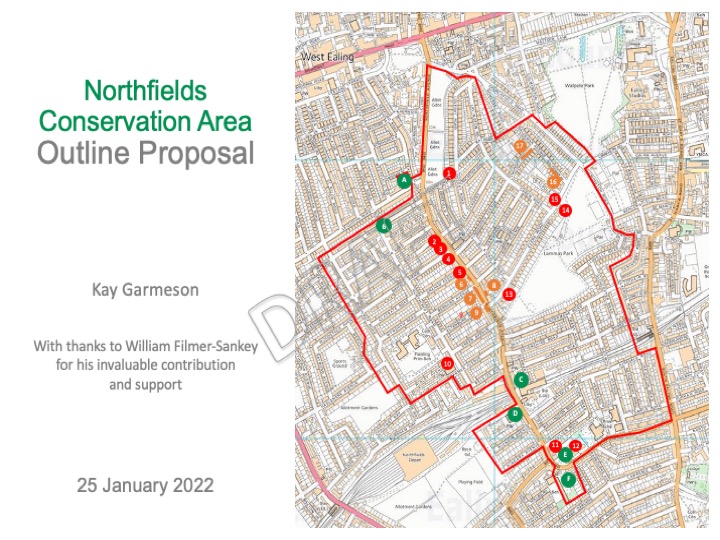 On February 3, as part of a much broader review, Ealing Council launched a consultation on whether Northfields should be designated as a Conservation Area.
This was in response to an outline proposal put forward to the Council last year by Northfields residents, Kay Garmeson and William Filmer-Sankey. The Council has since conducted an initial appraisal of the proposal and concluded that it has sufficient merit to be part of the public and stakeholder consultation on Conservation Areas as a whole in the borough.
Ms Garmeson says: 'I am delighted that the Council is consulting residents on Conservation Area status for Northfields. I have lived in the area for almost 40 years and love the fact that it has retained much of its historic character. However, the thirst for development in the borough has started to spill over from the main town centres, and I am concerned that the heritage and charm of the area that I and many others value could be lost. Conservation Area status would at least provide a basis for planning policies that support the preservation of Northfields' special character.'
The consultation document contains the Council's appraisal and includes six questions on which the Council is consulting. The questions are set out separately here with explanatory notes. Responses should be emailed to localplan@ealing.gov.uk.
Ms Garmeson added: 'It would be great if people were able to share their thoughts on all the questions, but the most important one is whether they agree with the new Northfields CA designation in principle (Q4). If they have time, people might also want to think about where they would set the boundaries of the CA. One way to think of it is whether they would like their street or road to be included, as the final boundaries have yet to be decided.'
The closing date for responses to the consultation is March 18.