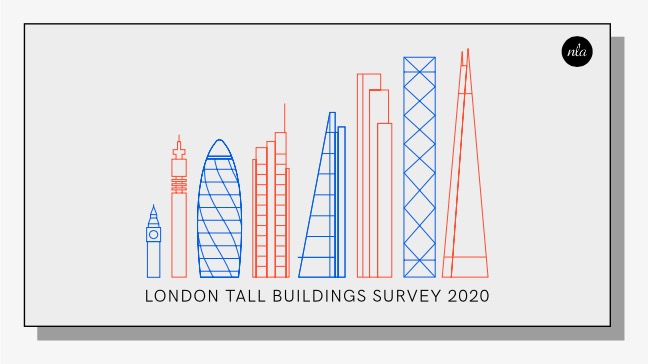 The latest annual report from New London Architecture on the planning pipeline for tall buildings is available. Developed with research partner, Knight Frank, the report surveys buildings of 20 storeys or more across London that are either under construction, have planning approval or are in the pre-planning application stage.
Ealing Matters has added the latest findings to its analysis of NLA's reports from the start of the survey in 2014. Trends worth noting are:
The overall number of tall buildings in the pipeline fell during 2019 for the first time since reporting began – from 541 to 525 buildings, a fall of 3%. The report attributed this to political uncertainties last year (e.g. regarding the UK's relationship with the EU, the general election).
Despite a fall in number and share, tall buildings continued to be most heavily concentrated in the Eastern (Tower Hamlets, Greenwich etc.) sub-region. The Western sub-region saw continued strong growth, the Central (Southwark, Lambeth etc.) sub-region somewhat less, giving these two sub-regions a roughly equal share of the pipeline in 2019.
Whereas the number of tall buildings in the pipeline was either stable or down in most boroughs in 2019 compared with 2018, Ealing added a further eight to its pipeline – more than any other London authority – bringing the total recorded by NLA for the borough to 32. Ealing now ranks sixth across all 33 boroughs compared with ninth last year.
By contrast, seven outer London boroughs have continued to resist the trend towards tall buildings: Bexley, Bromley, Havering, Hillingdon, Kingston upon Thames and Richmond upon Thames.
For the first time in 2020, NLA analysed the 60 tall buildings completed in 2019 by housing tenure. Around a quarter (24%) of a total of 16,470 units delivered by tall buildings were classified as affordable, well short of the 40% required by the current London Plan.
In contrast to last year the introduction to the report sounds a note of caution for the future:
'… we do not know when the new London Plan will be finally adopted given Robert Jenrick's scathing letter to Sadiq Khan at the beginning of March. This merely adds to the uncertainties we face in 2020. The closure of sites because of Covid 19 will reduce the numbers of completions and developers will hesitate to push the button on new projects. Add to that the impact the Grenfell Fire and new building controls, changes to the planning system and call for 'gentle density' by Jenrick and this year may mark the first drop in the growth of development of tall buildings in London for a decade …'
Can somebody tell Ealing Council?