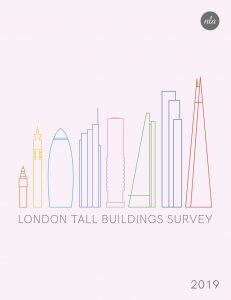 Ealing Matters has analysed a series of reports covering the planning pipeline for tall buildings (20 storeys or more) between 2013 and 2018. The data are compiled annually by G L Hearn, a property consultancy, on behalf of New London Architecture, which describes itself as 'a forum for discussion, debate and information about architecture, planning and development in London.
Buildings covered by the report are either under construction , have planning approval or are in the pre-planning application stage – in other words not built yet, but coming down the line. Noteworthy trends in the survey are:
Buildings of 20 storeys and more across London have increased substantially over the period monitored by NLA. From 2015 to 2018 alone the number in the pipeline rose by a quarter from 436 to 541.
Whereas most heavily concentrated in the Eastern (Tower Hamlets, Greenwich etc.) and Central (Southwark, Lambeth etc.), tall buildings in the pipeline in the Western boroughs increased by almost 600% from 13 to 90 towers between 2013 and 2018.
Over the same period, the number in Ealing rose from two to 24, a 1,100% increase, placing our borough 9th in the ranking across all 33 boroughs.
While many boroughs, including Ealing, are seeing huge increases in developments including tall buildings, a number have no tall buildings on the horizon: Bexley, Bromley, Enfield, Hillingdon, Kingston upon Thames and Richmond upon Thames.
In the introduction to its 2019 report, NLA comments:
'This (clusters of tall buildings of a wide variety of heights set in large areas of lower rise London) is likely to be the shape of the skyline for the next couple of decades, at least: pockets of taller buildings located in those boroughs that are willing to accept them. There is no London-wide strategy for taller buildings. Each borough seems able to determine its policies based on the reactions of its voters and its need for additional housing. Comfortable Bromley – the essence of suburban London – has none; Tower Hamlets, less than half the size, has lots.'
This comment suggests that Ealing Council has the latitude to take a different approach to tall buildings. It just needs the political will. For more detailed information read the individual reports.