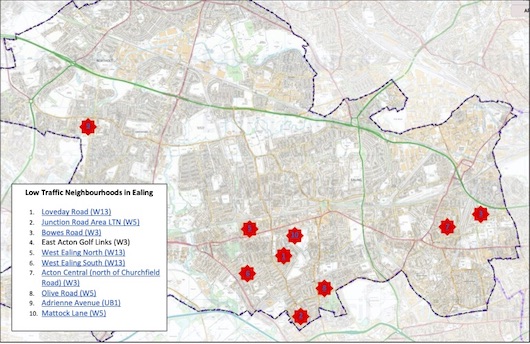 Rebellion is brewing in streets across the borough over Ealing Council's decision to implement ten experimental Low Traffic Neighbourhoods (LTNs) across Acton, Central and West Ealing and Southall without prior consultation with residents. (Click here for an interactive version of the LTN location map with links to the detailed maps of each LTN showing traffic filters. Note: There is currently no map for the East Acton Golf Links LTN.)
Ealing Council is generally in favour of Low Traffic Neighbourhoods (LTNs), which it sees as supporting the borough's climate objectives. However, recent statutory guidance from Government for local authorities to make significant changes to road layouts in order to give more space to cyclists and pedestrians in response to the Covid-19 health emergency, supported by funding from Transport for London (TfL), is the rationale underlying the latest schemes.
In accordance with Government guidelines, the LTNs will be implemented using an Experimental Traffic Order (ETO). Residents will be informed a week in advance of the introduction of an LTN in their neighbourhood and will be written to by the Council to make them aware of the scheme.
In contrast to Permanent Traffic Orders, which include prior consultation on the proposed scheme design, ETOs are used to trial schemes that may then be made permanent, and were chosen in this case in order to qualify for the time-limited funding. While there is no advance consultation under ETOs, once the scheme has been introduced, residents will have six months to register their support or objection via email to TrafficNotices@ealing.gov.uk based on their experience of the scheme (the statutory consultation). Ealing Council is also planning a second non-statutory consultation to better understand residents' view and experiences of the LTNs, which would take place towards the end of the six-month statutory consultation.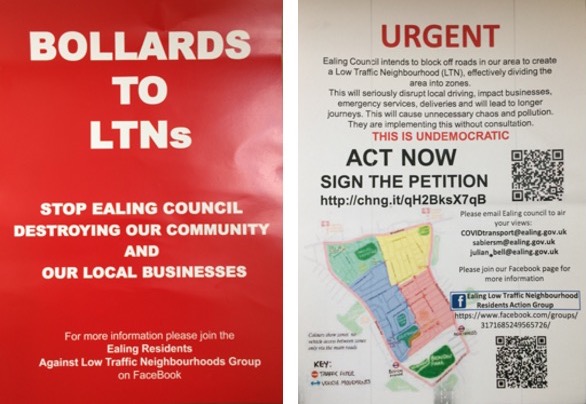 Details of how residents can express their views are available, but well hidden, on the Low Traffic Neighbourhood page of the Council's website. Unfortunately, while the Council publicised the LTNs in the July/August edition of Around Ealing, there was no mention of the fact that these LTNs were experimental and subject to statutory consultation, nor of where residents should send their comments. Is it any wonder that residents in the affected areas are up in arms?